Eco-Friendly has become one of my favorite trends. Fashion is moving towards vegan alternatives faster than you think. With innovation comes fresh designs with a new take on sustainability.
Hemp
Hemp, contains less than 0.3% THC, so you can't get high on it. Specifically grown for its non THC properties, Hemp isn't to be confused with Cannabis that will get you high.
Unlike cotton which is a demanding crop to cultivate, requiring much water, chemical fertilizers and insecticides, hemp grows like a weed, because it is one. It grows fast, it grows clean and it naturally resists insects.
Sustainability
Cotton also depletes the soil, while hemp plants enrich it. Hemp is also claimed to able to remove pollutants, like cadmium, from the soil in a process called phytoremediation.
The pace of sustainability in the Fashion Industry is not moving fast enough to counterbalance the severe negative impact of the industry's growth. If your favorite company isn't moving towards biodegradable fashion that helps the planet, its time to stop shopping with them.
With the passing of the 2018 Farm Bill, Hemp is fully legal and more accessible than ever. Big companies are taking advantage on the opportunity to combine Hemp with new designs and we are so here for it!
Here's eight different Kicks you probably didn't even know came out in the past couple of years including one dope Nike pair that was just announced this week.
Air Zoom Type "Hemp" Sneaker
The forthcoming exclusive celebrates London, but also its kindred spirit: Tokyo. The size? exclusive Nike Air Zoom Type will release on the size? webstore in the coming weeks. A retail price has yet to be announced. Launches this month.
Tubular X Mens Hemp Sneaker from Adidas Originals
Dropped in 2016, These Tubulars have serious lift, but they take a bold personality to pull them off. As High Tops they are one of my favorite of the Hemp drops.
Dunk Low Pro SB 'Hemp Pack'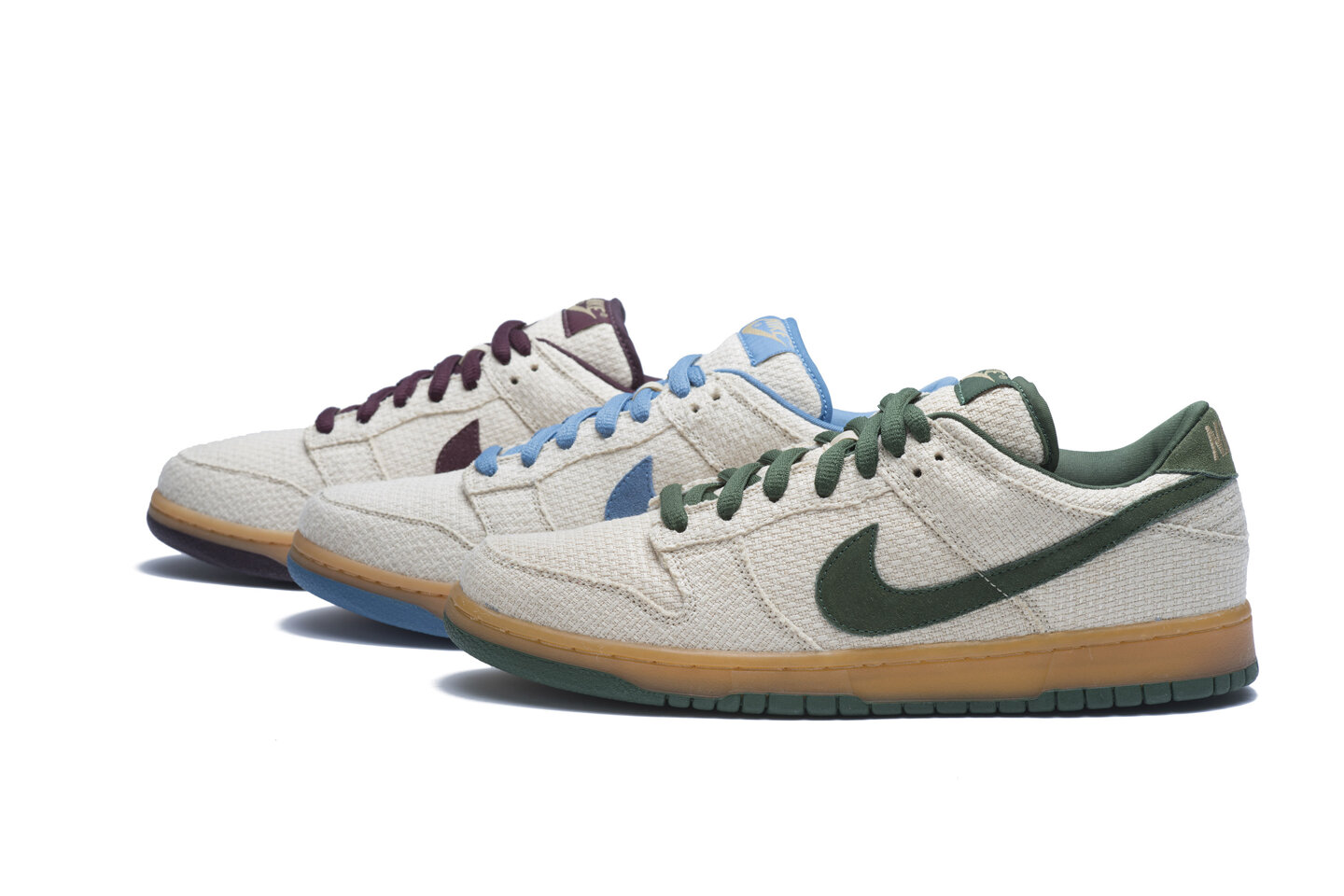 A tribunal released to coincide with a numerologically celebrated and significant day, the Hemp Pack introduced a new material to the line packed with breathability and blaze. The 100% hemp constructed upper stars on each model, allowing the red mahogany, bonsai, and cascade blue detailing to pop on the Swoosh, sole and detailing. Dropped April 20th, 2004. StockX
Barefoot Low Top HOSKA Sneaker
The Barefoot by HOSKA is the classic court sneaker now made with hemp. This model meets all barefoot footwear standards – they have plenty of room for your toes, have a flexible and thin sole, and are lightweight. PETA-certified vegan product with a 100% hemp canvas upper and natural rubber outsole. The Hemp canvas on the HOSKAS is durable, breathable, antimicrobial and moisture wicking. Operating since 2015, check this pair and many more Hemp products here.
Dope Kicks Waterproof Hemp Sneaker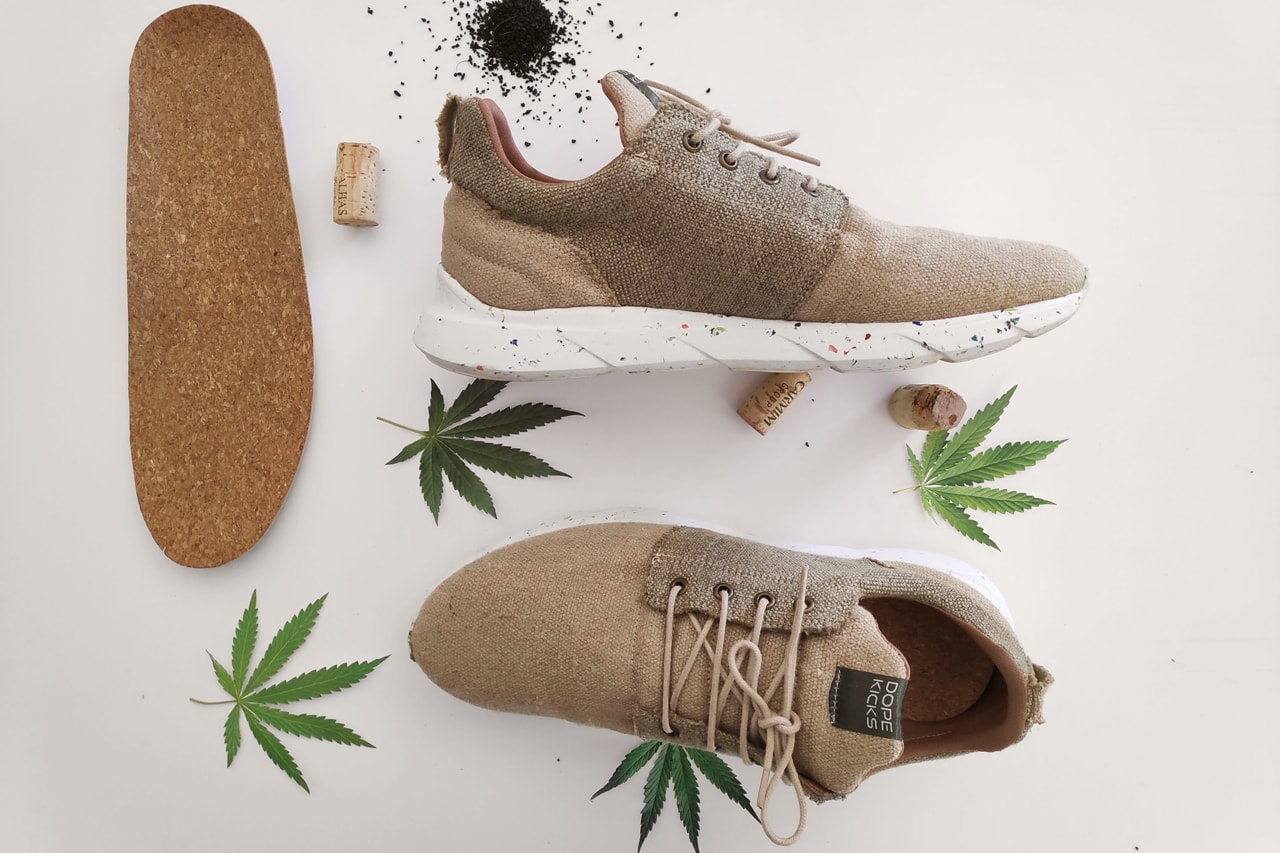 DopeKicks is designed for the outdoors, for the urban explorers and everything in between. The company's all-natural shoe is made of extra-strong cannabis hemp fibers, while other upcycled elements make the style completely eco-friendly. Find their KickStarter Campaign here.
Recycled rubber has been used for the outsoles, while the insoles are crafted of natural tree-growing cork. The tan-colored sneakers also feature 100% waterproof capabilities, ensuring that they are functional and wearable in a variety of climates and environments. DopeKicks took four months to source the most durable hemp material possible, and then partnered with skilled Portuguese manufacturers to use the soles of old shoes in order to create a sturdy foundation.
NAT-2 Vegan Sneaker
German high-end sneaker brand nat-2 ™, known for turning milk, plastic bottles and coffee grounds into fashionable sneakers, presents yet its latest creation: vegan sneakers made from real cannabis leaves. The 100% vegan, unisex sneaker's uppers are made from real sustainable recycled cannabis leaves, which covers up to half of the shoe's surface, depending on each style.
The cannabis leaves on the Nat-2 sneakers come from sustainably-grown hemp plants. the delicate leaves are layered into a green surface for a natural look, while the comprehensive concept of the sneakers is an homage to festivals and freedom. Dropped in 2019.
Happy 420 Stan Smith x BAIT Adidas Hemp Sneaker w/ Secret Stash
The 420-centric sneakers have features that will attract everyone from the casual smoker to the connoisseur-level cannabis aficionado. First, the shoe is built with natural hemp, so they're definitely built to last. Next, the designers had lots of fun with the shoe's tongue, making it resemble a prescription bottle of your favorite nuggies, complete with a tongue-in-cheek warning about the "high potency" and "superior quality. Made in 2017.
Fila x Akomplice – "The Aries" Hemp Sneaker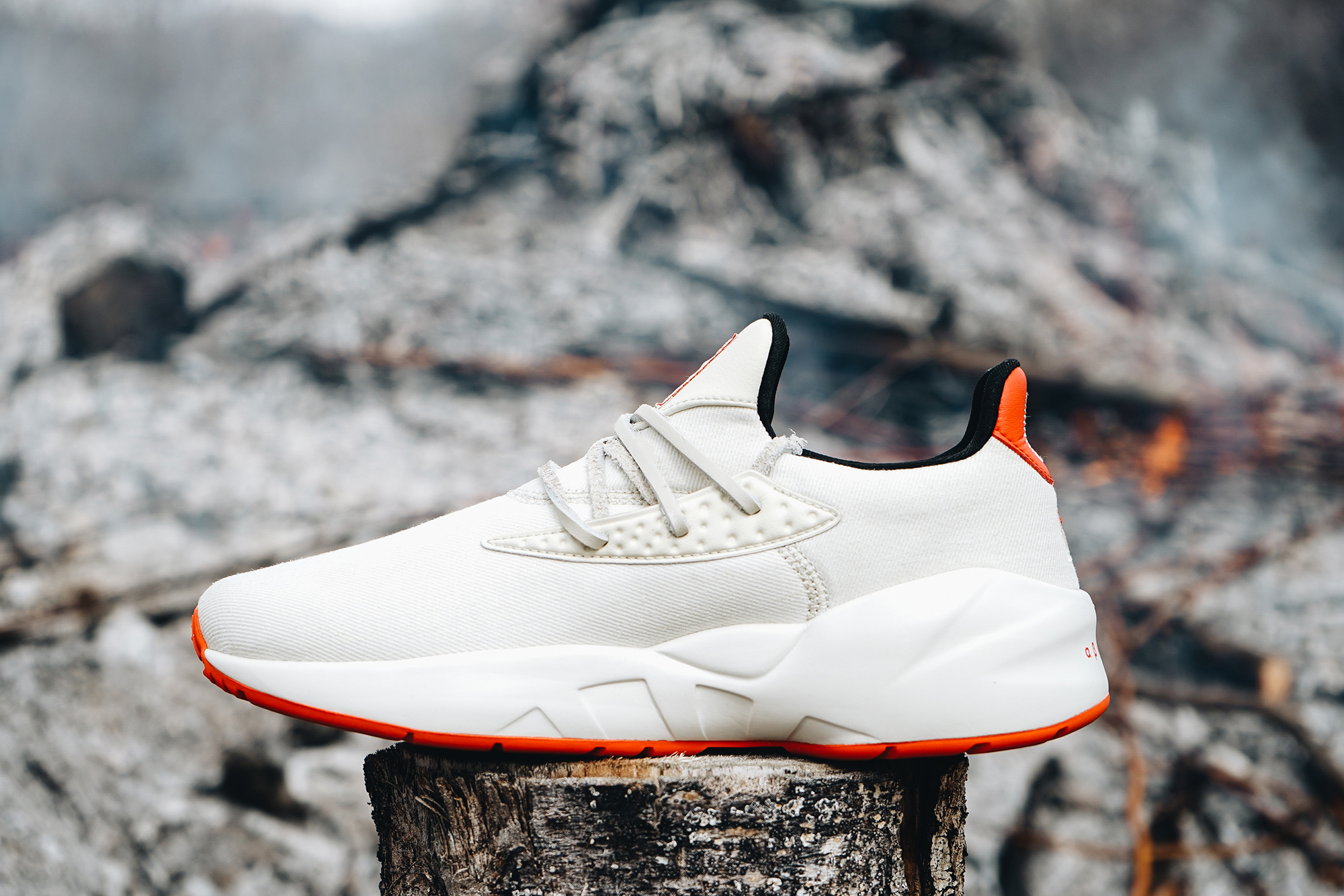 This is the first-ever sneaker from Fila, the sporting goods company founded in 1911 in Italy, that incorporates hemp. Akomplice, the New York City streetwear imprint company that collaborated with Fila on the joint footwear project, came up with the idea to design a shoe that paid homage to the Aries season. In order to get these exclusive kicks, you need to prove that you were born during Aries!
"We came up with the concept of doing the Aries shoe and wanted to incorporate hemp because of the sustainability. It was kind of perfect because the astrological sign Aries represents the birth of new things, breaking ground," said Patrick McCarney, co-founder of Akomplice.
The decision to integrate hemp into the shoe design goes beyond being a simple stylistic choice. Akomplice selected the material to draw attention to the sustainability and durability of hemp.
---
We hope you enjoyed this list of dope kicks! Its important to hold your fave retailer accountable because Fashion has been quoted to be the second-largest polluter next to gas and oil, it's at least in the top 10 industries of being a polluter! Please share or comment which one was your favorite!
xo