We were blessed (again) by our friends at Budsfeed for hooking us up with Hemp Mellow and their dope lineup of products!
Hemp Mellow products are formulated to provide a stress-relieving healthy alternative by optimizing the full spectrum entourage experience with the highest legal levels of Delta 9-THC plus CBD, CBD, and CBG.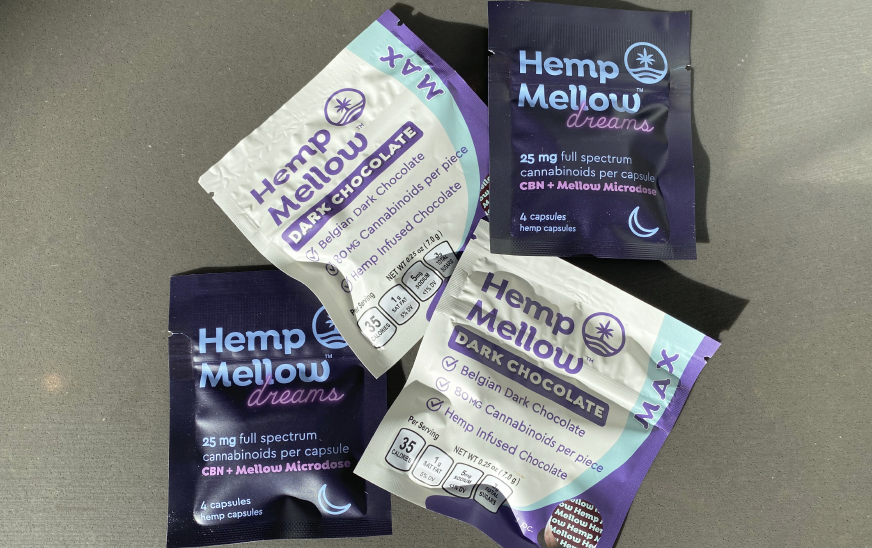 A calming but strong hemp-derived CBD product that provides everything you need. Your healthy, stress-relieving alternative. Your escape from the day to day noise.Hemp Mellow provides 25mg of organically bioavailable full spectrum cannabinoids per capsule formulated with our patent-pending delivery system, Naturia Plus.
Hemp Mellow Capsules offer the highest legal amount of hemp based ∆-9-THC while keeping the CBD costs at a minimum. In addition to the 0.29% ∆-9-THC content in their product Hemp Mellow Capsules utilize Naturia Plus.
Naturia+ is a patent pending delivery system which utilizes the power of Mother Nature to deliver cannabinoids more efficiently and effectively than any other method. Hemp Mellow's proprietary technology bypasses the liver's first pass metabolism utilizing the complete spectrum of cannabinoids in the most efficient manner of ingestion possible.
Hemp Mellow Max Dark Chocolate is the strongest hemp product on the market. With 80mg total cannabinoids, powerfully high yet legal limits of ∆-9THC and 1.5mg of CBN per chocolate.
Hemp Mellow Max Belgian Dark Chocolate is great for:
Sleep
Relaxation
Stress relief
Tension/Relief from discomfort
Mellow Dreams boasts 25mg of full spectrum cannabinoids per capsule including 5mg CBN and targeted functional terpenes. Using our patent-pending delivery method, Naturia Plus™, our cannabinoids and terpenes absorb more effectively allowing you to feel every milligram.
WHAT ARE MELLOW DREAMS™ CAPSULES?
Mellow Dreams capsules provide the great night's sleep you've been seeking without using melatonin. We harness functional terpenes and targeted ratios of CBD, ∆9-THC and CBN to allow you to sleep the night away. Wake up feeling refreshed with no morning grogginess. Sleep easy with Mellow Dreams. 
---
If you love what you're reading, then make sure to check out our Hemp Mellow x VisineQueen Giveaway on our Instagram!